Preparation Guide For The Canadian Physiotherapy Competency Exam (PCE) Written Component
Regular price

$350.00 CAD

Regular price

$700.00 CAD

Sale price

$350.00 CAD

Unit price

per
Share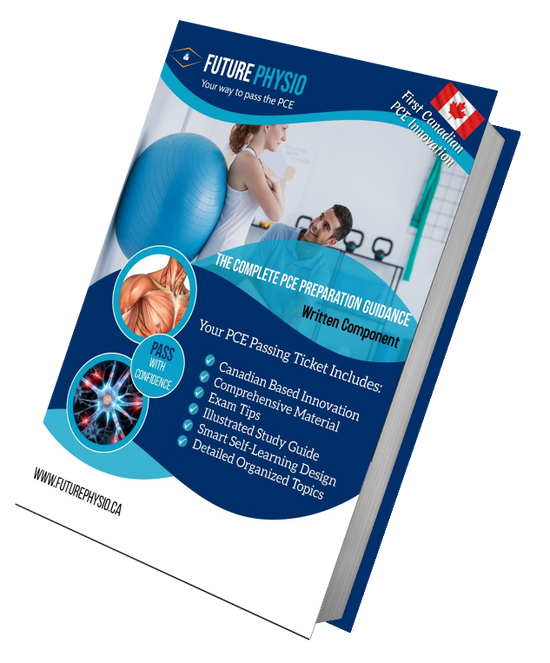 A High-quality Colored Book

Illustrated PCE study guide with hundreds of Images included PCE exam tips to make your preparation for the PCE enjoyable. The language used to create the content is easy to be understood.






Smart Self-learning Design. No Need For Tutor.

Our Innovation Is a self-explanatory book with pictures that speak more than a thousand words. So the information will stick in your brain quickly. No time-consuming video lectures that you cannot review more than once.

Canadian Based Innovation Specialized In The PCE Exam Written Component.

No need for materials that are non-specific to the Canadian Physiotherapy Competency Exam.

Fast Shipping All Over The World

We offer fast, reliable and efficient shipping options.
Pass The PCE

Prepare for PCE with confidence and pass from first attempt.





Every Thing You Need In One Book.

Explanation of all essential information and topics, including assessments, precautions, contraindication, and interventions.

Prepare For The PCE Smartly

Book is smartly designed for all test takers who either want to study from scratch or look for last-minute revision and exam tips.
Are "Future Physio books" enough to pass the PCE Exam?
Yes, The books cover all topics motioned in the list of The Canadian Alliance of Physiotherapy Regulators (CAPR) blueprint. Future Physio materials are the first Canadian book specialized in the PCE exam